Company
Company Outline
Company Name
ASTRODESIGN,Inc.
Head Office
1-5-2 Minami-Yukigaya, Ota-ku
Tokyo, Japan 145-0066
TEL 03-5734-6300/FAX 03-5734-6101
Established
February 15, 1977
Paid-in capital
72 million yen
President and CEO
Shigeaki Suzuki
Officers
Senior Vice President: Minoru Hosaka
Vice President: Tsutomu Mihara
Auditor: Yoichi Takahashi
Director: Yoshiaki Tochimoto
Director: Yoshihito Manabe
Director: Ernie Chen
Director: Yasuhiro Yoshida
Director: Keiji Kimura
Executive Officer: Yoichi Kosaka
Executive Officer: Junji Maeda
Employees
155
Business Lines
Sale of design manufacture and sale of the image / video apparatus and software adapting image electronics, HDTV studio apparatus, the measuring instrument for a display, MPEG related apparatus, etc. and the module about communication / control / measurement, a tool, a system, etc.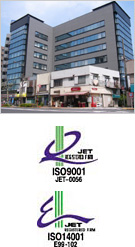 Offices
Head Office
Head Office 1-5-2 Minami-Yukigaya, Ota-ku
Tokyo, Japan 145-0006
TEL 03-5734-6300 / FAX 03-5734-6101
Service Center
TEL:03-5734-6311 / FAX:03-5734-6108
Osaka Sales Office
1-18-27-1010 Higashi-Nakajima,
Higashiyodogawa-ku,Osaka,Japan 533-0033
TEL 06-6328-8558 / FAX 06-6328-5058
Engineering Dept.
Tottori
R&D Center
1015-21 Oohara,Houki-chou,Saihaku-gun,
Tottori,Japan 689-4102
TEL 0859-39-8200 / FAX 0859-39-8201
USA Headquarters

780 Montague Expressway, Suite302, San Jose CA 95131 USA.
TEL +1-408-435-7800 / FAX +1-408-435-7900
URL : http://astro-americas.com/