Outline of product
It is a converter board that supports resolution conversion, format conversion, and color gamut conversion that correspond to 4K and HD input / output.
You can use two types of enclosures according to space and purpose.
· Signal Processing Unit (NXL-and FR316): 3U size enclosure made by Sony can mount up to 8 boards
· Board Enclosure (BE-4028): 1U size enclosure made by ASTRODESIGN Inc. and can mount up to 2 boards
Process Workflow
· 4K ⇔ HD up-conversion, down-conversion
· HDR ⇔ SDR 1D LUT, compatible with various camera logs
· ITU-R BT.2020 ⇔ ITU-R BT.709 3D LUT support
· 1D LUT, 3D LUT Import of user data
· Downmix of embedded voice, channel remapping
· Supports web browser control
· Multiple boards can be monitored and controlled by GUI application

Process Diagram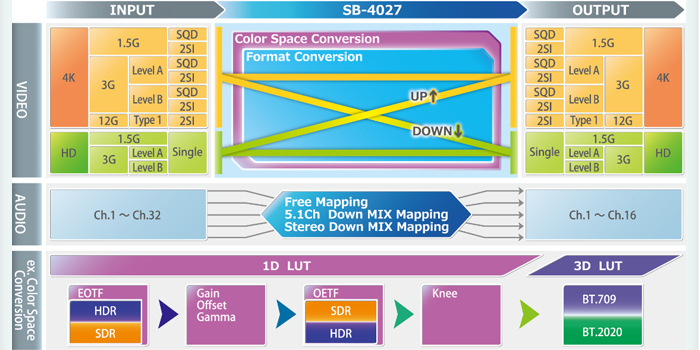 Specifications
WonderLook PRO
 

 

●

WonderLook PRO is software designed to solve almost all problems required for color adjustment in video production.
 
●
In addition to the IS-mini series, WonderLook PRO can connect to SB-4024/4027 and can capture LUT created on software.
 
●
You can create a look or color space transformation using it for preset LUT, choosing input and output color space or camera profile, and using various colors created with GUI. The created look and color space conversion can be sent to SB-4024/4027.
 
 
 
 
 
 
 
Downloads