Outline of product
This system can measure the modulation transfer function(MTF) of a camera in real time, based on its knife-edge response, while continuously controlling the focus, iris, and zoom.
A multidirectional MTF reveals anisotropy resulting from the misalignment of the optical axis of the imaging  system, pixel arrangement of the image sensor, and image processing. By thoroughly assessing the spatial resolution performances of UHD cameras, lifelike visual perception can be achieved.

"This MTF measurement system was developed in collaboration with NHK.
Features
●Real-time MTF measurement by new edge-based method

 ・High accuracy and precise measurement of camera system
 ・Measurable while continuously controlling the focus, iris, and zoom
 ・MTF measurement for curved edges by distortion is supported

●Simultaneous measurement of multi-directional MTF

 ・Confirms optical alignment of the lens and image sensor
 ・Confirms MTF anisotropy through pixel arrangement and image processing
 ・Compares the MTF of the center and periphery of the image

●Support for conventional MTF measurement methods

 ・Bar (In mega cycle) chart method and s-SFR method (ISO 12233) are supported
 ・Results of new edge-based method and conventional methods are comparable

●Camera noise measurement
●Support of various camera interfaces

 ・Capture devices supporting 12G / 6G / 3G/ HD-SDI input and HDMI input *Supported by IP-8030 only
 ・Cameras supporting machine vision standards(CoaXPress/USB3 Vision/GigE Vision)

●Camera and lens data analysis (ARRI LDS / SMPTE RDD18 / GenICam)
●Measurement on laptop computers or tablets in addition to workstations
 *With use of Thunderbolt3 compliant eGPU box
System Image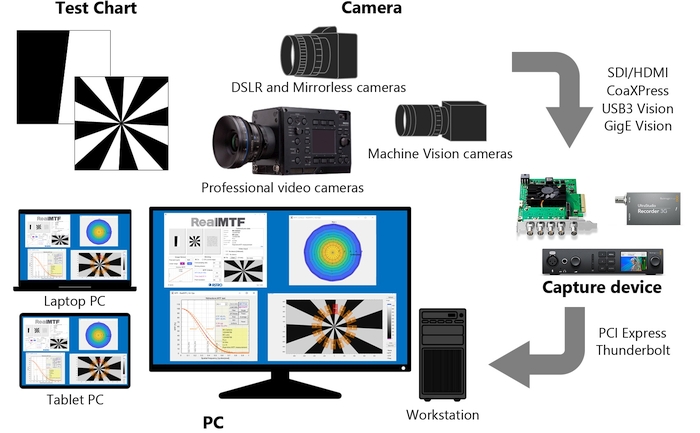 Optional Additions
|  Product Number | Description |
| --- | --- |
| OP-4030-1 | Chart frame (chart folder + tripod) |
| OP-4030-2 | MTF chart / chart frame case |
| OP-4030-3 | Unidirectional edge chart ※Reflective type |
| OP-4030-4 | Multidirectional edge chart (16 spokes) ※Reflective type |
| OP-4030-5 | Multidirectional edge chart (14 spokes) ※Reflective type |
| OP-4030-6 | Chart folder only |
| OP-4030-7 | Unidirectional edge chart ※Compact transmissive type |
| OP-4030-8 | Multidirectional edge chart (16 spokes) ※Compact transmissive type |
Downloads