Outline of product
An 8K 60Hz portable camera equipped with a camera sensor featuring a global shutter function and image processing function.
8K video can be output in real-time with 4 lines of 12G-SDI for use in live events such as stage performances and sports matches.
The camera can be controlled externally by connecting a remote controller (RB-4816-2).
Features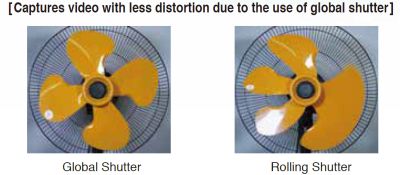 Specifications
Camera Specifications
Item
Specifications
Image Sensor
Super 35mm CMOS Sensor 24.576mm×13.824mm
Effective Pixels
About 33 million pixels
ADC Bit Depth
12-bit
ND Filter Position
Clear, 1/4 ND, 1/16 ND, 1/64 ND
CC Filter Position
3200K, 4400K, 5900K, CAP
Lens Mount
PL Mount
Latitude
11 Stop
Electronic Shutter
1/24~1/10000
Frame Frequency
23.98, 24, 25, 29.97, 30, 50, 59.94, 60Hz
Gain
-3.0, +3, +6, +9, +12, +18dB
Gamma Curve
・SDR (Dynamic Range 100, 200, 400, 600)
・HLG (Dynamic Range 100, 200, 250, 400)
・Log Gamma
Color Gamut
ITU-R BT.2020, BT.709
Dimensions
128(W)×150(H)×241(D)mm(Excluding Protrusions)
Input/Output Specifications
Item
Specifications
8K/4K Output Connector
(Select from 8K/8K, 8K/4K, 4K/8K, 4K/4K)
BNC×8  
12G-SDI×4 8K:50p, 59.94p, 60p
6G-SDI×4 8K:23.98p, 24p, 25p, 29.97p, 30p
3G-SDI×4  4K:50p, 59.94p, 60p
4K/HD Output Connector
(Select from 4K/4K, 4K/HD, HD/4K, HD/HD)
BNC×2
12G-SDI 4K:50p, 59.94p, 60p
6G-SDI 4K:23.98p, 24p, 25p, 29.97p, 30p
HD-SDI HD:23.98p, 24p, 25p, 29.97p, 30p, 50i, 59.94i, 60i
Analog Audio Connector
Audio IN XLR 3-pin (female)×2 (phantom power available)
・ Line Level (0dBu)
・ Mic Level (-60 dBu)
Headphone Jack
Stereo mini jack×1
VF OUT Connector
HIROSE multi-pole pin (+12V 1A Power)×1
TC Connector
BNC×1
Genlock Connector
BNC×1
MADI Connector
BNC×1
Remote Connector
HR10 12-pin round connector×1
Lens Connector
HR10 12-pin round connector×1 (Lens serial interface Rev. 1.03 compliant)
Downloads