Product Outline
- Best application for Video walls, Security monitors for control rooms.
-User friendly operation by touch panel display on the unit.
- HDCP supported Digital Matrix Switcher.
- Both analog and digital input interfaces are supported.
- Scan conversion technology is supported.
- Up to 68 channels of input and output in total.
- Magnifying display to multi-monitors such as 9 (3x3) monitors are supported (Option).
- 4-different sources are displayed in one monitor (Option).
Benefit of MI-2100
- Save time of installation and adjusting
- (1) Input source can be previewed by front LCD before connecting output monitors.
- (2) Internal test patterns are useful to check transmission problem.
- (3) Another display's EDID is saved and simulated for pre-check.
- (4) By Plug-and-Play function, users do not have to set output timing individually.
- Save installation space and power
- By supporting various interfaces and scan conversion technology in one single unit, users can save
- space of installation and power consumption.
- Save time of maintenance
- (1) Time code is embedded.
- (2) Operation environment can be saved in a file.
- Transmission interfaces are widely supported
- (1) LAN, RS-232C-422, Parallel remote terminal
- (2) External lock terminal to input master sync (BB, 1080i/59.94, 60Hz) to control output
Connection

Main Features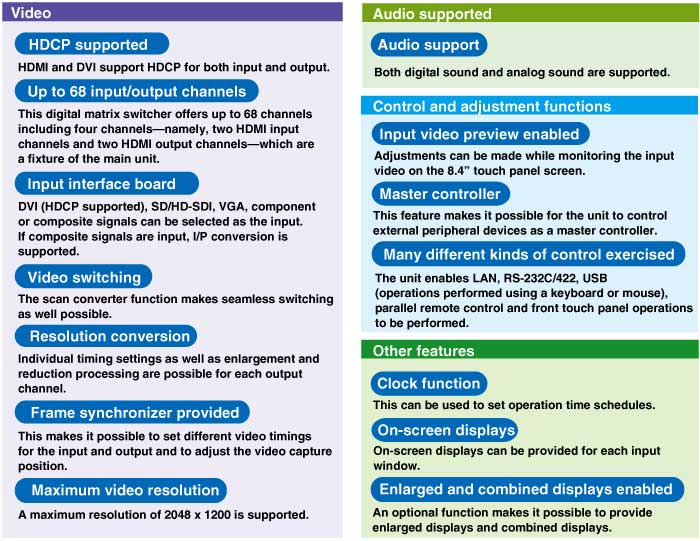 Application