General description
Next generation 8K imaging technology called UHDTV, displaying of overwhelmingly live feeling and dynamism.
Astrodesign has developed various products since the dawn of UHDTV.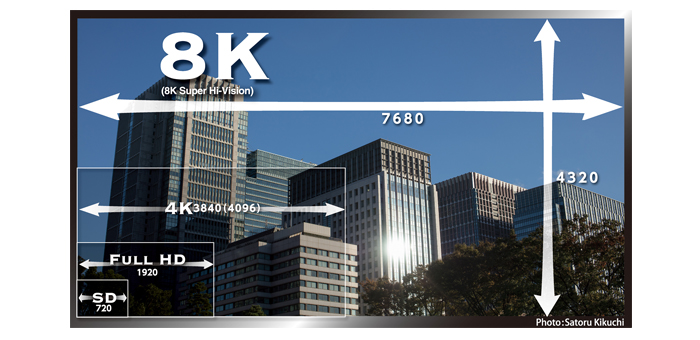 Japan Broadcasting Corporation (NHK) has conducted R&D on the UHDTV television format, which is called Super Hi-Vision in Japan. 8K UHDTV boasts a resolution of 7680x4320—16 times more pixels than the current HDTV format. Viewers experience this massive resolution at 60 fps in progressive video. The feeling of immersion is impressive,
and objects have a much more natural sense of depth.
Since this advanced video format was first introduced, Astrodesign has collaborated with NHK to develop a range of UHDTV products. Intensive R&D is currently underwaytargeting test broadcasts in 2016, which has led to a steady stream of the new equipment and technologies needed to bring viewers this exceptional content.
(8K series products mentioned below are developed in collaboration with NHK.)
What is 8K(UHDTV)...
UHDTV or Super High Vision initiated by NHK is now well known. NHK STRL holds open house every early summer in which UHDTV current technology and related products are exhibited and public viewing of 2012 London Olympic. Let us take this opportunity to introduce what about UHDTV. It is called Super Hi-Vision or SHV standing for, also called 8K because of a number of horizontal pixel of about 8,000. ITU approved it as ITU-R BT.2020 in August 2012 and called UHDTV (Ultra High Definition Television).

[Main specifications are as below)]
Resolution: 7680×4320
Aspect ratio: 16:9
Frame rate: 60Hz progressive
Audio system: 22.2ch

Speaking about spatial resolution, it is 7680x4320, which is 16 times as much as current HDTV(1920x1080).
60 frames per second progressive scanning makes its timing resolution twice as much as current HDTV 30fps. Moreover, UHDTV defines appropriate viewing distance from the diplay as 75% of display vertical length. People can enjoy much closer position to the display than in HDTV and experience wide view angle as 100 degrees. These specifications make UHDTV quite immersive.
Not only video but audio is gorgeous as well. 22.2ch means 22 audio channels and two low frequency channels. There put 9 speakers at high, 10 at middle, 3 at lower position surrounding TV viewer from all directions, as well as two woofer speakers in front. This system makes audio real world.
Those mentioned above are why UHDTV must be extremely high immersive media. NHK is trying to achieve test transmission in 2016 and start broadcasting service in 2030. UHDTV can be experienced in public space such as London Olympic event until that time.
UHDTV production needs its dedicated equipments and now that they have been developed by collaborating companies including Astro. Camera, monitor, projector, recorder, signal processor, transmitter and editing equiment have been finished to develop by special order, though it is quite expensive.
UHDTV development is now advanced to aim at test transmission in 2016, NHK STRL is also trying to make further research for UHDTV future. For example, They proved UHDTV superiority by relationship between resolution and viewing position in terms of live feeling and reality. Next, because large screen is much preferred to see UHDTV, 60Hz frame rate is not enough just because of its large screen in which motion flicker and blurred effect are outstanding, then NHK STRL proposed 120Hz to improve. Furthermore, much wider color space than current HDTV is proposed. And so on.
UHDTV could have possibilities other than broadcasting media. Real time area cut technology from UHDTV to HDTV resolution to focus on selected view point(related hardware were developed by Astro), ultra high resolution image sensor for non glasses 3D imaging technology called Integral 3D, Artistic expression by real time UHDTV CG, and so on.
Product Information