Key Features
HDMI 1.3a based
Tests HDMI sources: DVD/Blu-ray players, set-top boxes, AV amplifiers, notebook PCs and digital cameras.
[Production Line]
Users prepare golden sample (reference) data and compare it with the input signal. Software application shows its PASS/NG result.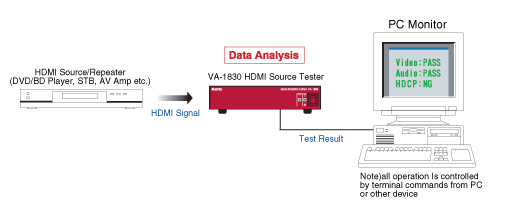 [R&D and Quality Assurance]
Users use it as a simple HDMI protocol analyzer.
(1) Video, Audio and InfoFrame can be checked.
(2) DDC and CEC line monitoring by "Through mode"

[Test Items]
(1) 36-bit video data
(2) Audio data (L-PCM level and frequency)
(3) DDC (HDCP) and CEC line - VA-1830 is controlled by PC only. ASTRODESIGN provides terminal commands as standard option.
[Option]
Utility software to monitor DDC line (included with the VA-1830-A).
Specifications
VA-1830
HDMI
Dot Clock
25 to 165MHz
Input/Output
Transfer Rate
25MHz to 225MHz (in case of 12-bit/150MHz)
Deep Color
8, 10 and 12-bit
Color Space
RGB/YCbCr 4:4:4/YCbCr 4:2:2
In/Output signal
TMDS
HDCP
Acceptable (Ver.1.3)
I2S/SPDIF 8-ch
DSD 8-ch
Max.192kHz
Receiving only
HBR
Receiving only
DDC
DDC2B supported
E-EDID
Ver.1.3
CEA EDID Timing Extension
CEA-861-E
External Controls
RS-232C
Baud rate 9600bps
LAN
10/100BASE-T
USB
Host, Device
General Specification
Voltage
AC100~AC240V (50/60Hz)
Power Consumption
10W (MAX)
Operating Temperature
Range
+5 to 40℃ (no condensation)
Operating Humidity
Range
30 to 85%RH (no condensation)
Dimensions
210(W) x 44(H) x 240(D) mm
(excluding protusions)
Weight
Approx.2 ㎏