Outline of product
HR-7518 is a 2U stand-alone 8K SSD recorder supporting both compressed and uncompressed recording and playback.
Features
・Supports compressed recording and playback of 8K Dual Green, full-resolution 8K and full-specification 8K* with one unit
  (*HR-7518-A only)
・Supports compressed recording using Grass Valley HQX Codec
・Installation of USB 3.0 port provides more convenient 8K data transferring experience (10GbE to be supported in the future)
・Maximum capability for recordings are as listed below:
 Uncompressed: 48 min(4TB SSD Pack × 2 units)/ Compressed: 80 min(HQX 8:1)
・U-SDI(ARIB STD-B58) ,3G-SDI and 12G-SDI are installed for input/output interfaces
・2 SSD packs can be installed. Packs can be swapped during recording or playback with the exception of some recording formats.

・2 available options for SSD packs.
・2TB(Model:MM-210)/ 4TB(Model:MM-210-A)
・Maximum 32ch audio recording(uncompressed with 24 bit)available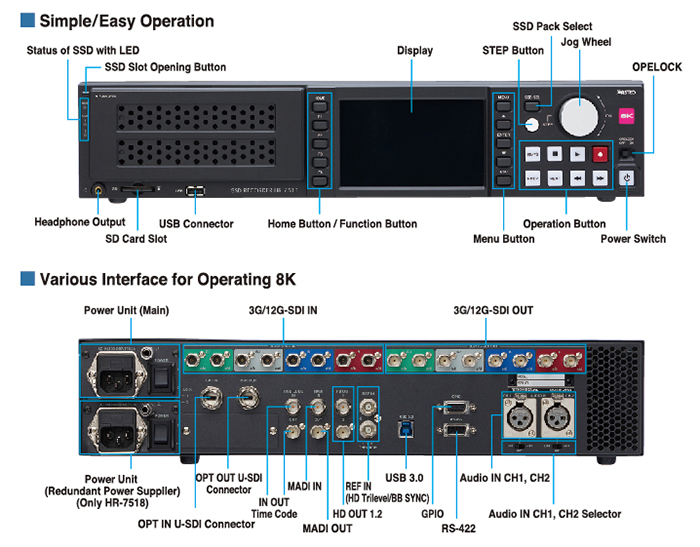 ・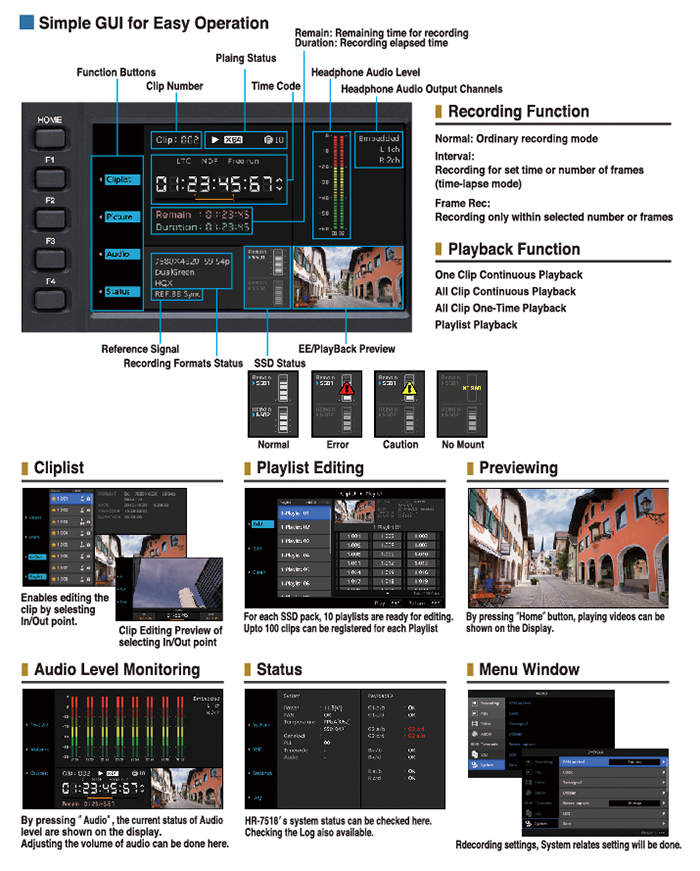 Specifications
Item

Specifications

Video Format

8K(7680×4320) Dual Green 59.94p
8K YCBCR 4:2:2 59.94p
8K RGB   4:4:4 59.94p
8K YCBCR 4:2:2 119.88p
8K RGB   4:4:4 119.88p

Video Input

3G-SDI (SMPTE 424M/ST 425-1) 8 sets
12G-SDI (SMPTE ST 2082-12) 4 sets
#3G/12G switchable by selection.
Ancillary data (audio and TC) supported
Optical (ARIB STD-B58) 1 set
Ancillary data (audio and TC) supported

Video Output

3G-SDI (SMPTE 424M/ST 425-1) 8 sets
12G-SDI (SMPTE ST 2082-12) 4 sets distributed
Ancillary data (audio and TC) supported
Optical (ARIB STD-B58) 1 set
Ancillary data (audio and TC) supported

HD OUT

HD-SDI(SMPTE 292M)1ch-2 splits 1920x1080 59.94i
Embedded Audio, Time Code, Character.

Reference Input
HD tri levels or BB Signals 75Ω BNC Passive Through
MADI IN/OUT
(Multichannel Audio Digital Interface) 
75Ω BNC 1ch
Timecode IN/OUT
BNC 1ch Supports only LTC
RS-422
D-Sub 9pin (Female)、SONY Protocol
GPIO
D-Sub 15pin (Female) for TALLY/ALARM, /REC ON/OFF
USB 3.0
Type B Connector for Communicating with PC
USB 2.0
Type A Connector for Communicating with Memory drive
Audio IN
XLR 3pin Female Connector, Stereo Channels, LINE/MIC/MIC+48V INPUT
SD Slot
SD Card Slot for updating firmware and log taking
Headphone
3.5mm Stereo mini jack
[ General Specification ]
| | |
| --- | --- |
| Power Voltage | AC100 - 240V |
| Operating Temperature | 0 - 40° |
| Operating Humidity | 20~80%RH(no condensation) |
| Power Consumption | 150W (Estimated) |
| Dimensions | 2U Rackmount size: 430(W) × 88(H) × 350(D) mm(excluding protrusions) |
| Weight | Approx. 8.2 kg(excluding SSD packs) |
[ Recording Time ]
Video Format

Recording Time

Uncompressed

HQX 8:1

SSD Type
2TB x 2
4TB x 2
2TB
4TB
8K Dual Green 59.94p
20 min *1
40 min *1
40min
80min
8K YCBCR 4:2:2 59.94p
-
-
40min
80min
8K RGB 4:4:4 59.94p *2

-
-
40min
80min
8K YCBCR 4:2:2 119.88p
-
-
20min
40min
8K RGB 4:4:4 119.88p *2
-
-
20min
40min
*1 : Parallel two SSD pack recording is necessary for uncompressed data
*2 : Will convert to YCBCR 4:2:2 before encoding
[ SSD Packs(Option) ]

2TB Model:MM-210
4TB Model:MM-210-A
| | |
| --- | --- |
| Dimensions | 138(W) × 92(H) × 18(D) mm (excluding protrusions) |
| Weight | Approx. 0.4 kg |
[ Outputting File Format ]

| Item | Specifications |
| --- | --- |
| HQX AVI | Compressed Video Container(HQX) |
| DPX | Uncompressed Video Container RGB 10bit |
| DG-RAW | Dual Green SHV Raw Data Container |
| WAV | Uncompressed Audio Stereo 24bit |
[ Accessories(HR-7518) ]
| Name | Quantity |
| --- | --- |
| HR-7518 | 1 |
| AC Cable | 2 |
| HR-7518 Instructional Manual | 1 |
| Data Transferring Software(CD-ROM) | 1 |
| EIA2U Rackmount Clamp | 1 |
Downloads