Outline of product
HR-7518 is a 2U Stand-Alone 8K SSD Recorder supporting both Compressed and Uncompressed recording/playing.
Features
・Able to record/playing compressed 8K Dual Green、Full-Resolution 8K、Full Specification


・

with one unit(HR-7518-A)
・Supporting compressed recording using Grass Valley HQX Codec.
・USB 3.0 is installed. More convenience for 8K data transferring. (Support10GbE in future)
・Maximum capability for recordings are,


・

Uncompressed:48mins(4TB SSD Pack×2 units)、Compressed:80mins(HQX 8:1)
・For input/output Interface, U-SDI(ARIB STD-B58) ,3G-SDI and 12G-SDI are installed
・2 units of SSD pack can be installed.


・

Able to swap SSD packs while Recording/Playing (Except some recoding format)

・2 options for SSD available.
・2TB(Model:MM-210), 4TB(Model:MM-210-A)
・Maximum 32ch Audio recording(Uncompressed with 24 bit)available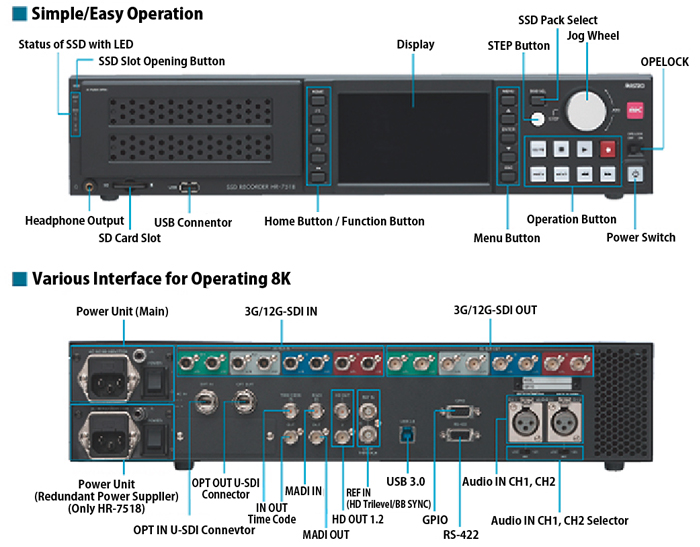 ・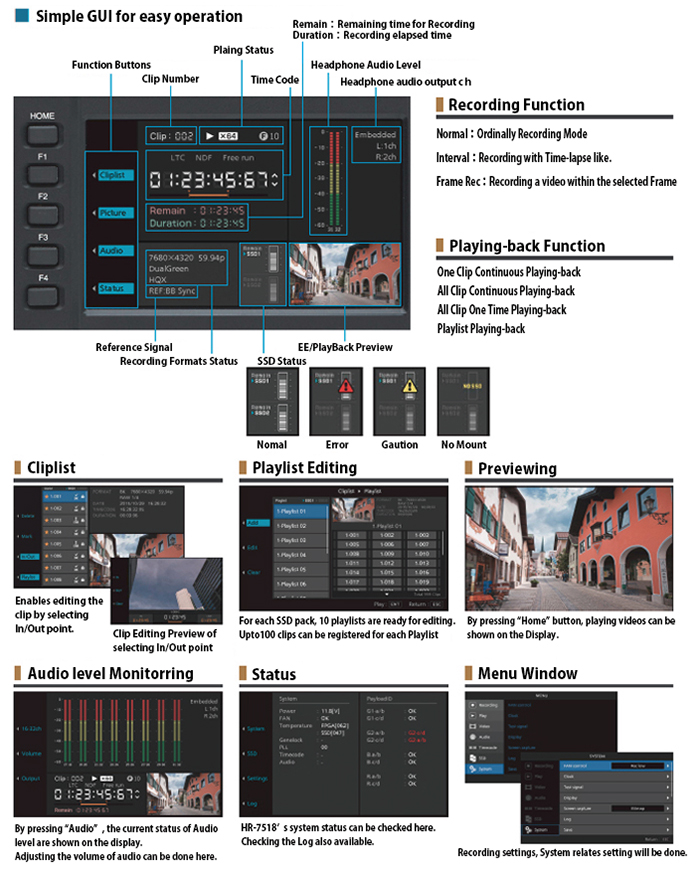 Specifications
Item

Specifications

VideoFormat

8K(7680×4320) Dual Green 59.94p
8K YCBCR 4:2:2 59.94p
8K RGB   4:4:4 59.94p
8K YCBCR 4:2:2 119.88p
8K RGB   4:4:4 119.88p

Video inputs

3G-SDI (SMPTE 424M/ST 425-1) 8 sets
12G-SDI (SMPTE ST 2082-12) 4 sets
#3G/12G switchable by selection.
Ancillary data (audio and TC) supported
Optical (ARIB STD-B58) 1 set
Ancillary data (audio and TC) supported

Video outputs

3G-SDI (SMPTE 424M/ST 425-1) 8 sets
12G-SDI (SMPTE ST 2082-12) 4 sets distributed
Ancillary data (audio and TC) supported
Optical (ARIB STD-B58) 1 set
Ancillary data (audio and TC) supported

HD OUT

HD-SDI(SMPTE 292M)1Channels-2 splits 1920x1080 59.94i
Embedded Audio, Time Code, Character.

Reference INPUT
HD tri levels or BB Signals 75Ω BNC Passive Through
MADI
(Multichannel Audio Digital Interface) IN/OUT
75Ω BNC 1Channels
TIMECODE IN/OUT
BNC 1Channels  Supports only LTC
RS-422
D-Sub 9pin (Female)、SONY Protocol
GPIO
D-Sub 15pin (Female) for TALLY/ALARM, /REC ON/OFF
USB 3.0
Type B Connector for Communicating with PC
USB 2.0
Type A Connector for Communicating with Memory drive
AUDIO IN
XLR 3pin Female Connector, Stereo Channels, LINE/MIC/MIC+48V INPUT
SD
SD Card Slot for Updating Firmware, Log taking
Headphone
3.5mm Stereo mini jack
[ General Specification ]
| | |
| --- | --- |
| Power Voltage | AC100 - 240V |
| Operating Temperature | 0 - 40° |
| Operating Humidity | 20~80%RH(no condensation) |
| Power Consumption | 150W (Estimated) |
| Dimensions | 2U Rackmount size: 430(W)×88(H)×350(D)mm(excluding subjected parts) |
| Weight | Approx. 8.2kg(excluding SSD packs) |
[ Recording Time ]
Video Format

Recording Time

Uncompressed

HQX 8:1

SSD Type
2TB x 2
4TB x 2
2TB
4TB
8K Dual Green 59.94p
20 mins *1
40 mins *1
40mins
80mins
8K YCBCR 4:2:2 59.94p
-
-
40mins
80mins
8K RGB 4:4:4 59.94p *2

-
-
40mins
80mins
8K YCBCR 4:2:2 119.88p
-
-
20mins
40mins
8K RGB 4:4:4 119.88p *2
-
-
20mins
40mins
*1 : Need 2 SSD Packs for recording with Uncompressed *2 : Converting to YCBCR 4:2:2 before encoding
[ SSD Packs(Option) ]

・2TB Model:MM-210
4TB Model:MM-210-A
| | |
| --- | --- |
| Dimensions | 138(W)×92(H)×18(D)mm (excluding subjected parts) |
| Weight | Approx. 0.4 kg |
[ Outputting File Format ]

| Item | Specifications |
| --- | --- |
| HQX AVI | Compressed Video Container(HQX) |
| DPX | Uncompressed Video Container RGB 10bit |
| DG-RAW | Dual Green SHV Raw Data Container |
| WAV | Uncompressed Audio Stereo 24bit |
[ Accessories(HR-7518) ]
| Name | Quantity |
| --- | --- |
| HR-7518 | ..............................1.............................. |
| AC Cable | 2 |
| HR-7518 Instructional Manual | 1 |
| Data Transferring Software(CD-ROM) | 1 |
| EIA2U Rackmount Clamp | 1 |
Downloads

[ Description video ]
*8K Solutions