Outline of product
Astrodesign has developed a real-time MTF measuring system IP-4030 (4K compatible) and IP-8030 (8K compatible) that measure the resolution characteristics of cameras and lenses with Japan Broadcasting Corporation (NHK). The new DT-8031/DT-8031-MV is an application that can measure the spatial resolution characteristics of any display, including 8K/4K TVs, monitors, projectors, smartphones, and tablets, in combination with signal generators and measurement cameras (LMD), in addition to functions such as real-time measurement and noise analysis of camera MTFs supported by IP-4030/8030.
System diagram image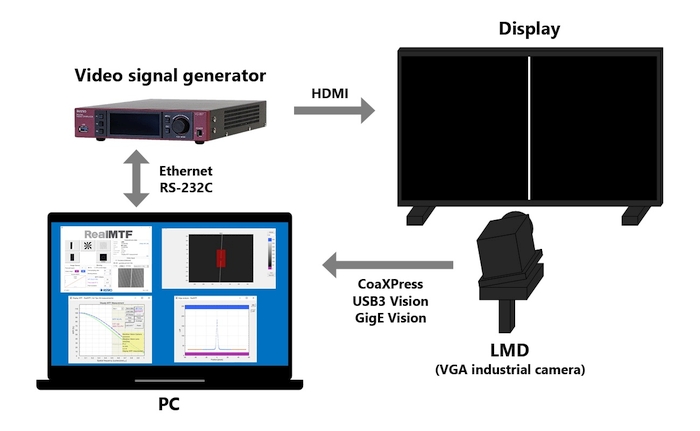 Features
Common features of IP-8030/IP-8031
・Support real-time measurement of camera MTF (Unidirectional / Multidirectional / In megacycle / Sine wave / s-SFR method).
・Compatible with a variety of camera interface.
 - SDI / HDMI * Only support IP-8030 and DT-8031
 - Support Machine Vision Standard (CoaXPress / USB3 Vision / GigE Vision).
・Support for noise analysis, acquisition of camera, and lens data.

Additional function
・Real-time measurement of the display MTF.
 - Support Grille measurement method based on the contrast ratio of square waves, also newly developed Line-
based measurement method.
 - Measurement magnification can be set arbitrarily.
Options
Options for measuring display MTF
|  Model | Product Name |
| --- | --- |
| OP-8031-1 | Display MTF measurement jig set |
| OP-8031-2 | Display MTF measurement camera *Includes lens and filter |
| VG-887 | Video signal generator *HDMI 2.1 supported |

Options for measuring camera MTF

|  Model | Product Name |
| --- | --- |
| OP-4030-1 | Chart Folder+Tripod |
| OP-4030-2 | Chart Frame Case |
| OP-4030-3 | Horizontal/Vertical Edge Chart *reflective type |
| OP-4030-4 | Multidirectional Edge Chart (16 spokes)*reflective type |
| OP-4030-5 | Multidirectional Edge Chart (14 spokes)*reflective type |
| OP-4030-6 | Chart Folder Only |
| OP-4030-7 | Horizontal/Vertical Edge Chart *small through type |
| OP-4030-8 | Multidirectional Edge Chart (16 spokes)*small through type |