Outline of product
A high-performance CPU and  large-capacity main memory link together to produce incredibly high-speed processing comparable to that of a server.
It is not only the speed, capacity, and built-in storage that are impressive, but also the interface and PCIe slots that allow for multiple double height GPUs to be inserted for high-speed graphics processing.
All these functions combine to create the ultimate next-generation workstation.
From 8K video editing to video analysis, Tamazone can support various appli­cations such as real-time file conversion processing, compressed/un­compressed data processing, machine learning and more.
Features
・Maximum 56 CPU cores
・Maximum 6TB main memory
・Space for up to 4 double height GPUs
・Built-in storage with speeds capable of real time read/write for 8K video
・Large capacity, redundant power supply
Data Flow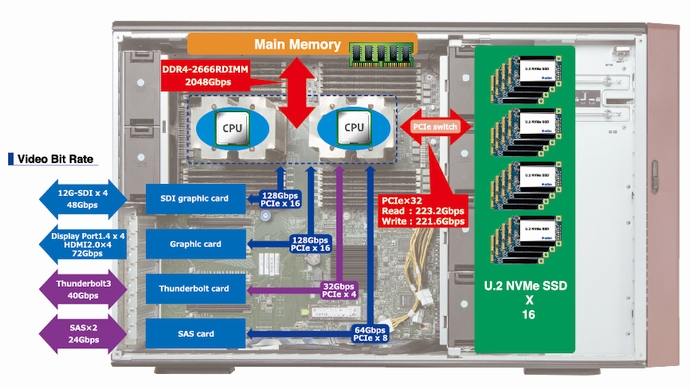 Front/Rear Diagram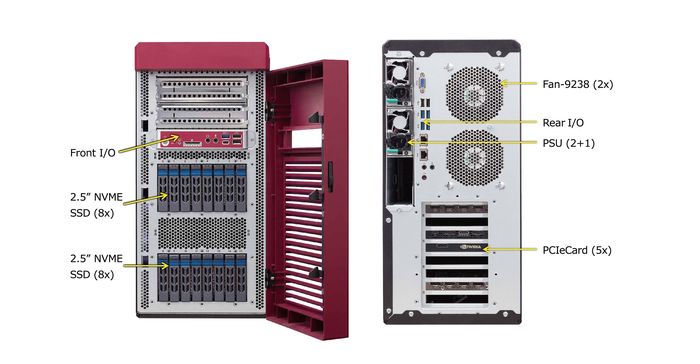 Specifications
CPU/Memory /GPU/Storage can be customized according to the application
AW-8800

Motherboard

Purley Platform, 16.7"×15.7"

CPU

Intel® Xeon® Processor×2

Memory

DDR4‐2666 8GB×24

C:drive

Intel® 512GB NVMe SSD

D:drive

2.5" U.2 NVMe SSDs×16

PCIe Slot

Slot1:PCIe Gen3×16
Slot2:PCIe Gen3×16
Slot3:PCIe Gen3×16
Slot4:PCIe Gen3×16
Slot5:PCIe Gen3×4 (DMI)

Network

1GbE RJ45 Ethernet
1GbE RJ45 Management Ethernet

Body

5U Chassis, 28.7"(L)×18.0"(H)×8.54"(W)

Rear Panel Interface

USB 3.0 Ports×4         USB 2.0 Ports×2
Line-IN/Microphone-IN×1      1GbE R45 Ethernet×1
1GbE R45 Management Ethernet×1    VGA Port×1

Front Panel Interface

USB 3.1 Gen2 type-A×1 USB 2.0 Ports×2
USB 3.1 Gen2 type-C×1 Power Button×1
Reset Button×1      Line-IN/Microphone-IN×1

BMC

AST2520

Power

(3)2+1 1300W Redundant high efficiency PSU (Input:90-240V)

OS

Windows 10 Pro for Workstations
Application Example
Uncompressed 8K Real-time Recording System

Recording
●Uncompressed 4K/8K recording(YUV,4:2:2,59.94p)
●Future support for 120p planned
●Import DPX/TIFF/BMD files

Playback
●Uncompressed 4K/8K playback(YUV,4:2:2,59.94p)
●12G-SDI output
●Export DPX/TIFF files
●IN/OUT point setting
●Audio