High definition video technology
Venturing boldly into the unknown and uncovering new potential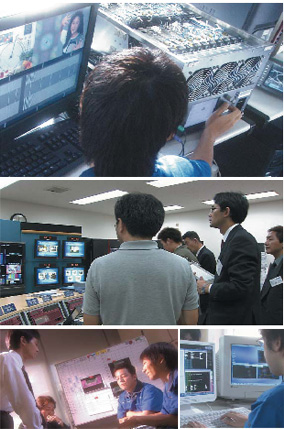 "Super High Vision" (8Kx4K) video was displayed at the Aichi Exposition in 2005. ASTRODESIGN contributed to this project by a processor for the ultra-high definition images and optical multiplex transmission system that can handle the data that is 16 times of Full HD picture(*). We also work for developing more sophisticated technology in the fields of high-speed transmission, uncompressed video/audio storage and security. It will contributes the benefits of images with higher quality.
* co-development with NHK.
Usage

Main products



VP-8400


Super HD dedicated image processor
This recorder executes chromatic aberration compensation, outline correction and downconversion into 4K x 2K LCD and HD signals for video signals which have been shot by super highdefinition cameras. It also enables zooming to the desired angle for the HD signals.



VP-8420


Hard disk recorder for
super high-definition signals
This disc recorder is capable of recording and playing back 23.8 Gbps super high-definition signals without compressing the data. Its small size has been achieved by using a 2.5-inch hard drive. This feature is complemented by the optimization of the hard drive controller to make the recorder easy to operate.